We look forward to seeing everyone at the Buffalo High School Open House on Monday August 22 from 5:30pm to 7:30pm.

Seniors and Senior Parents: The Putnam County Health Department will be holding Immunization Clinics on Aug 17 for 9am -3pm and Aug 18 form 8am - 6pm. Please be reminded that a meningococcal immunization is required for Seniors by the first day of school. If you cannot make either of these clinics you can call the PCHD to set up an appointment at (304)757-2541 or you can contact your childs health care provider. Please bring a copy of your child immunization record for the first day of school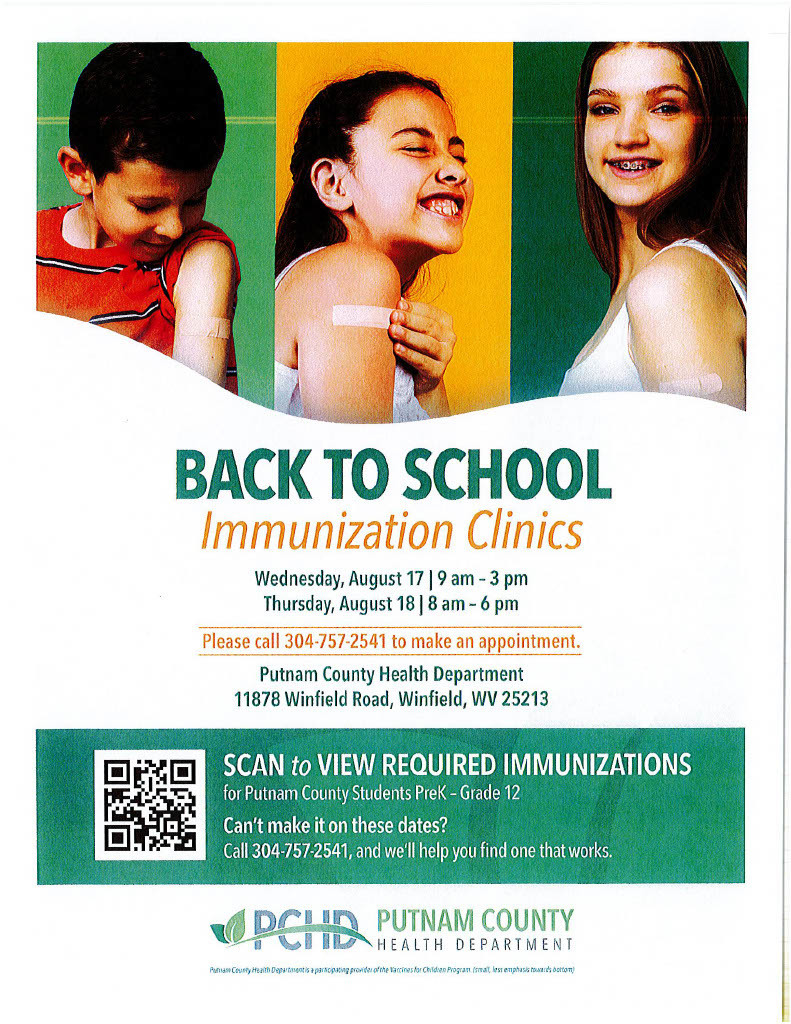 ACADEMY TRAINING DAY: Senator Joe Manchin in partnership with the West Virginia University ROTC is hosting an Academy Training Day on Saturday, August 27, 2022. There will be opportunities for students to explore a future in military and build important connections towards that career path. Click here for more information.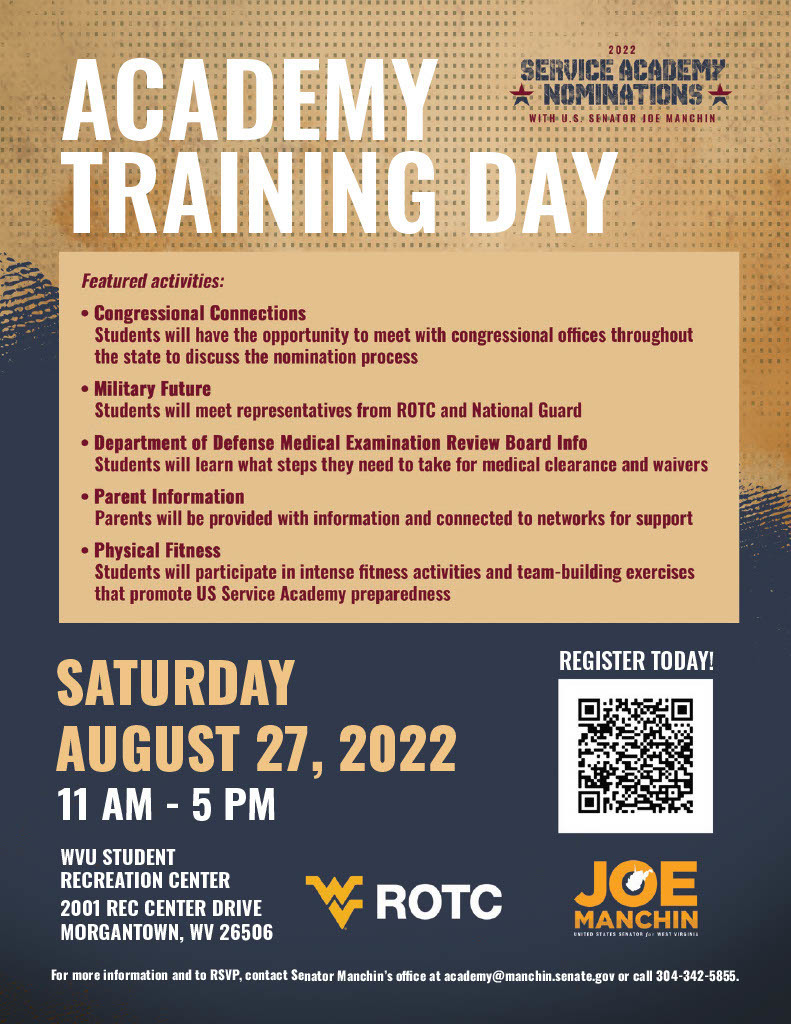 Dance Team Clinic & Tryouts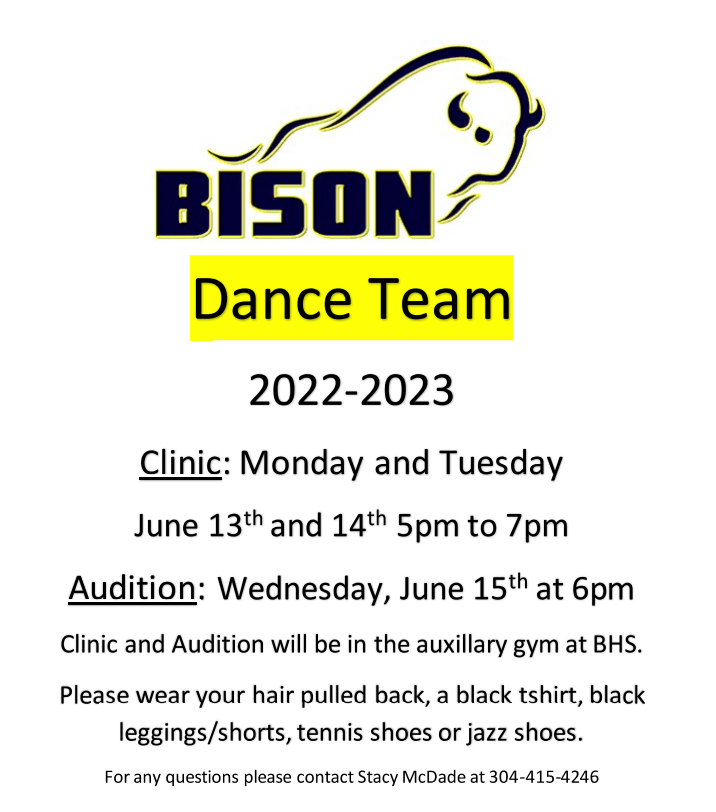 ATTENTION TO ANY FORMER GOLDEN HORSESHOE WINNERS Governor and First Lady Justice Welcome Past Golden Horseshoe Winners to Reunion CHARLESTON, W.Va. – Governor Jim Justice and First Lady Cathy Justice, along with the West Virginia Department of Arts, Culture and History (WVDACH), would like to invite all past Golden Horseshoe award winners to a special reunion to acknowledge the accomplishments of those who have received this prestigious award. The program will take place on Monday, June 20, 2022, from noon – 2 p.m. at the Culture Center, State Capitol Complex in Charleston, and will feature a ceremony and reception. This event will be part of the annual West Virginia Day celebration. Since 1931, more than 15,000 West Virginia students have received the Golden Horseshoe Award in recognition of their knowledge of West Virginia history. Each year, thousands of eighth graders across the state take the Golden Horseshoe examination, and more than two hundred are inducted into the prestigious Golden Horseshoe Society each year. For more information and to register for the event, go to
https://wvculture.org/event/golden-horseshoe-reunion/
or contact Andrea Thompson, WVDACH deputy curator, at
Andrea.D.Thompson@wv.gov
.

Good morning, We have been monitoring the weather throughout the week for tonight's graduation. After careful consideration of all the factors, we have decided to move tonight's graduation ceremony into the gymnasium. Doors to the school will open at 6pm and the graduation ceremony will begin at 7pm. We will have a live stream of the ceremony as well, please use the link below. We look forward to celebrating the Class of 2022 with you this evening.
https://youtu.be/Zpu7bxmFXPQ

Good morning seniors and senior parents. Congratulations, we have made it to the final day of your senior year, and we are just as excited and anxious as you are for all of the festivities that go along with it. I am contacting you today to give you an update on Friday's Graduation Ceremony. We are continuing to monitor the weather for Friday evening. Regardless of weather, Graduation will be on Friday evening at 7pm on the campus of Buffalo High School. Our desire is to have our Graduation Ceremony outside on the football field, but our backup plan would be to move it into the gym if mother nature does not cooperate. We will make a final decision on the location by Friday morning. Thank you and have a great day.

Parent-Teacher Conferences will be tomorrow, Thursday April 7th, from 5-7pm. If you would like to schedule a conference please contact your students teachers through schoology or call the school at 304-937-2661.


Bus 1804 will not be running today. Students who normally ride 1804 will ride 1503 today. Some drop offs may be later than normal.


Good Luck to Cole Whittington who will be competing in the District Math Field Day Competition on March 1st.

Tickets are now on sale at gofan.co for the Boys Sectional game at Poca on Friday March 4th at 7pm.

Girls Regional basketball tickets will go on sale at 5pm today on gofan.co for their game @ Ravenswood to be held on Thursday March 3rd at 7pm.



Attention Buffalo High School Families: It was brought to the administration's attention that individuals have received spam calls from someone identifying as a BHS employee soliciting debit card information for SAT materials. Please know that this is a scam call and not an individual from our school. BHS will never ask for credit or debit card information over the phone. We would ask that you please notify the school administration if you receive a similar call. BHS will work to inform the appropriate outlets to resolve this issue. Thank you for your continued support and awareness of this matter.

Starting tomorrow Jan 19, 2022 the morning tardy bell will be ringing at 7:55am. This is 3 minutes earlier than the 1st semester. Please make sure to adjust your arrival time accordingly.

We are pleased to inform you that students who took the West Virginia General Summative Assessment or SAT School Day in spring 2021 will receive an email at their K12 student email account on December 10, 2021, containing a link to an individual student video score report. Parents with emails on file with the school will also receive the link to the video score report. Although students received their printed score reports earlier this school year, the West Virginia Department of Education is piloting exciting new video score reports designed to be more engaging for students and their parents or guardians. Please have your student check his or her email account for the link, and parents and guardians should also check to see if it has been received. Simply copy and paste the link into your web browser and enter the student's date of birth to access the video score report customized specifically for the student. Also, be sure to check out the links to resources in the video report. If you have any difficulty accessing the report, please contact the school for assistance.

The FBI Charleston WV Citizens Academy Alumni Association in partnership with the FBI Pittsburgh Division's Charleston, WV Resident Agency, United States Attorney's Office of the Southern District of West Virginia, and West Virginia Child and Human Trafficking Task Force are hosting a virtual presentation for parents, guardians, teachers, and community members to learn how to keep children safe online. The event will take place via Zoom on Thursday, December 2, 2021 from 6:00 to 8:00 p.m. EST. Topic: Online Safety Awareness Community Event Time: Dec 2, 2021 06:00 PM Eastern Time (US and Canada) Join Zoom Meeting
https://us02web.zoom.us/j/82897631725?pwd=TlNJclBlT2pPUXZQbXpENmM2MTByQT09
Meeting ID: 828 9763 1725 Passcode: 208840 One tap mobile +16465588656,,82897631725#,,,,*208840# US (New York) +13017158592,,82897631725#,,,,*208840# US (Washington DC)